Mod Lanz Bulldog D1616-D2816 by ls_oldtimer v1.0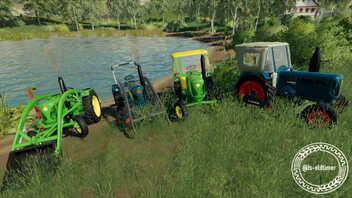 Mod Lanz Bulldog D1616-D2816 by ls_oldtimer v1.0
I'm happy to introduce you to another of my mods.
It is the Lanz Bulldog full diesel series 16.
Price: 9500,
Power D1616 – 16PS
Performance D2016 – 20PS
Power D2416 – 24HP
Power D2816 – 28PS
The right front loader is available here:
[FBM Team] Baas Klinklader and equipment
The right bar mower is available here:
Lanz cutter bar FOR Lanz D1616-D2816 by ls_oldtimer
Configurations:
-Four tire configurations
-Body variants D1616, D2016, D2416, D2816
-Original Lanz Bulldog or John-Deere Lanz body
-Configuration roll bar, roof
-Baas front loader console
-Mower bar drive
– all decals modeled
-Fully animated driver
-animated pedals
-animated gear levers
-Motor animation
-Color choice of rims
-Color choice of body
-Color choice of motor grille
-Color choice of roof
-Color choice of roll bar
-simpleIC
-RMT real manual transmission
I wish you all a lot of fun with the Bulldog! And remember if it doesn't smoke it has no performance!