LS22 Brand Icons HQ v1.0.0.1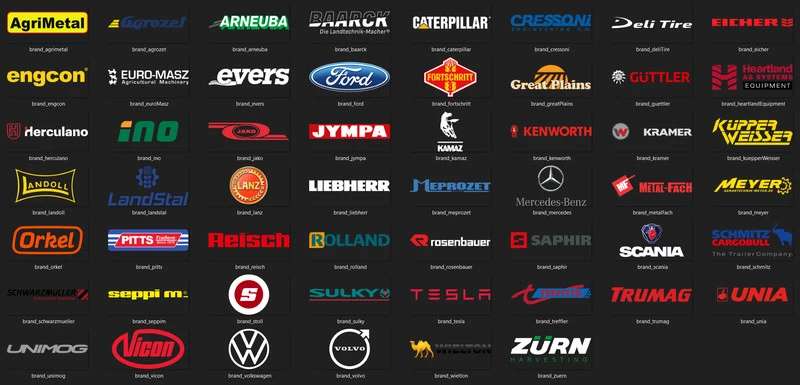 LS22 Brand Icons HQ v1.0.0.1
---
All logos are available with 1024x512px (+ MipMaps).
Added v1.0.0.1:
– AgriMetal
– Caterpillar
– Eicher
– Greater Plains
– Heartland AG Systems Equipment
– Landoll
– Kamaz
– Rosenbauer
– Wielton
The mods must use the correct specific brand name! E.g.. not MERCEDESBENZ or MYMERCEDES but MERCEDES.
Available logos:
Brand Name     Brand Title
AGRIMETAL     AgriMetal
AGROZET     Agrozet
ARNEUBA     Arneuba
BAARCK     Baarck
CATERPILLAR     Caterpillar
CRESSONI     Cressoni
DELITIRE     Deli Tire
EICHER     Eicher
ENGCON     engcon
EUROMASZ     Euro-Masz
EVERS     Evers
FORD     Ford
FORTSCHRITT     Fortschritt
GREATPLAINS     Great Plains
GUETTLER     Güttler
HEARTLANDEQUIPMENT     Heartland AG Systems Equipment
HERCULANO     Herculano
INO     Ino Brežice
JAKO     Jako
JYMPA     Jympa
KAMAZ     Kamaz
KENWORTH     Kenworth
KUEPPERWEISSER     Küpper Weisser
LANDOLL     Landoll
LANDSTAL     LandStal
LANZ     Lanz
LIEBHERR     Liebherr
MEPORZET     Meprozet
MERCEDES     Mercedes-Benz
METALFACH     Metall-Fach
MEYER     Meyer
ORKEL     Orkel
REISCH     Reisch
ROLLAND     Rolland
ROSENBAUER     Rosenbauer
SAPHIR     Saphir
SCANIA     Scania
SCHMITZ     Schmitz Cargobull
SCHWARZMUELLER     Schwarzmüller
SEPPIM     Seppi M.
STOLL     Stoll
SULKY     Sulky
TESLA     Tesla
TREFFLER     Treffler
TRUMAG     Trumag
UNIMOG     Unimog
UNIA     Unia
VICON     Vicon
VOLKSWAGEN     Volkswagen
VOLVO     Volvo
WIELTON     Wielton
ZUERN     Zürn
If you want other logos to be added, just comment! They must be not available in game!